Laying the Foundation
401 North Houston is an existing building located in Dallas' Historic West End. After purchasing the address in September of 2017, Crescent Real Estate constructed an idea to develop additional square footage to the building and lead the charge of Dallas' new Innovation District. With a modern creative space within walking distance of downtown, this ideal venue was designed to serve as a hub for innovative startups and corporations in Dallas. The prime location provides tenants easy access to dining and entertainment throughout downtown. The purpose of the new innovation movement is to bring young, modern companies into a creative work environment while establishing the new vision for the historic West End.
Crescent Real Estate approached RFTB to establish the brand and key messaging that would communicate the building's unique purpose and direction as leaders of creativity and innovation in the West End.
Branding
Naming
Logo Design
Key Messaging
Creative
Digital Design
Environmental Design
Banner Design
Keynote Design
Content Production
Video Production
Marketing Collateral Production
Interactive Development
Website Development
WordPress Development
Announcing The Luminary
The name for the new building needed to be indicative of its vision and excellence. As a creative office space, the purpose of The Luminary is to inspire others and light the way for the new Innovation District.
Explaining all of the innovative features and amenities that The Luminary offers would take some energy. Utilizing the new name and brand, our team designed strategic marketing materials for Crescent to promote and advertise The Luminary across various media.
Logo and Tagline
Brand Positioning Statement
The modern vision of the West End is the Innovation District—strategic development spurring creativity and facilitating growth.
On the forefront of the Innovation District is The Luminary, amenity-rich workspace purposefully designed to inspire. Overlooking the West End, The Luminary offers a truly unique setting for big ideas and transformative ingenuity. The Luminary is an activated work environment located steps away from dining, entertainment and integrated transportation. Blend business and lifestyle and explore higher-level ideation at The Luminary — leading innovation at the West End.
Lighting the Digital Path
We designed The Luminary's website to reveal the creative spirit and opportunity that the space provides for its tenants.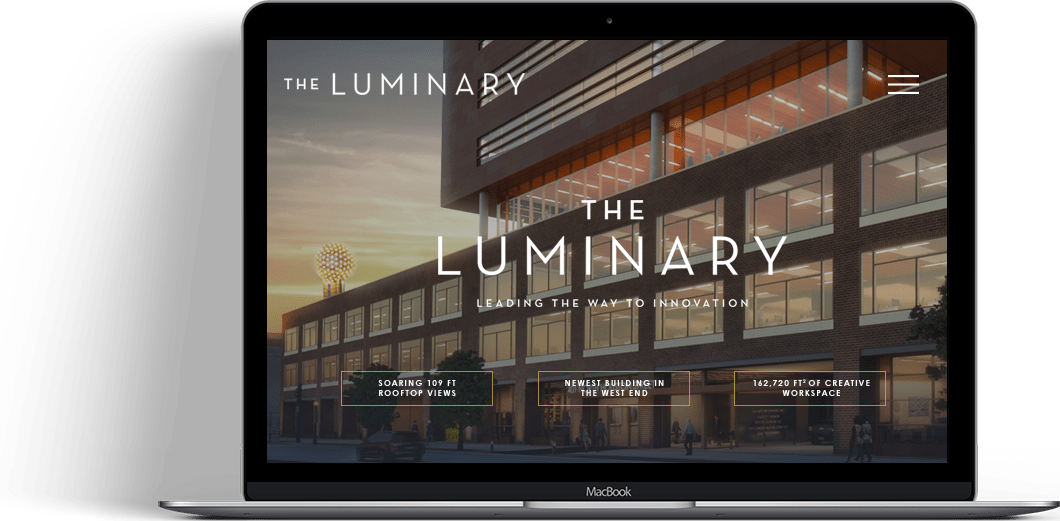 Because visitors will primarily be tenants or prospective tenants, we utilized clean design and intuitive navigation to keep everything easy to find while including experiential imagery of the building, views and historic neighborhood.
View Live Site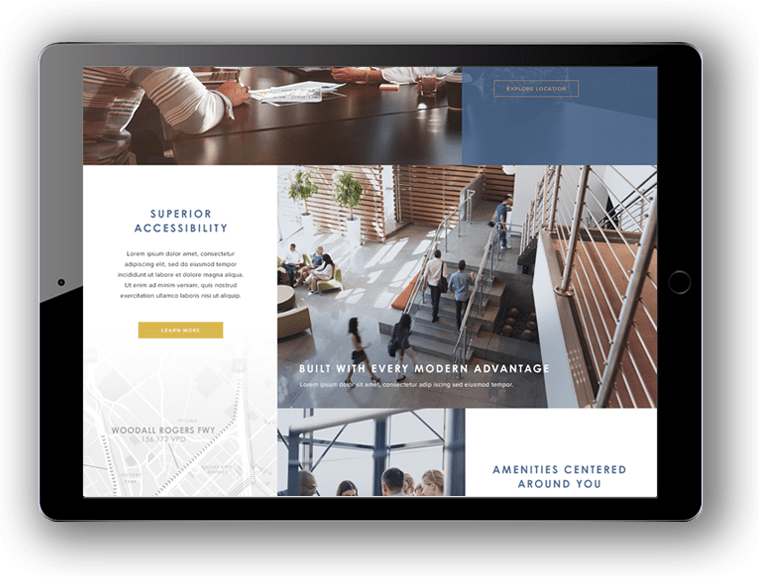 Environmental Design
To drive attention and intrigue towards the vision behind The Luminary, our team designed banners and signage around The Luminary announcing the building's new name and management.
Click and drag to view the full fence design